Mothers are sweetest gift from gods to us. There is no way we can really thank our mother for all she does for us nevertheless we must make it a habit of keep remanding ourselves of the various sacrifices she made while raising us. Mothers are the homemakesr who led a modest and greatest work that a woman can do.Without mother our life will be full of dark and out of track, so we all must respect and love our mother. Celebrate Mother's Day by wishing her, greeting her, and making her feel how important and special she is. Send her your warmest greetings and wishes and make your mother's day bright.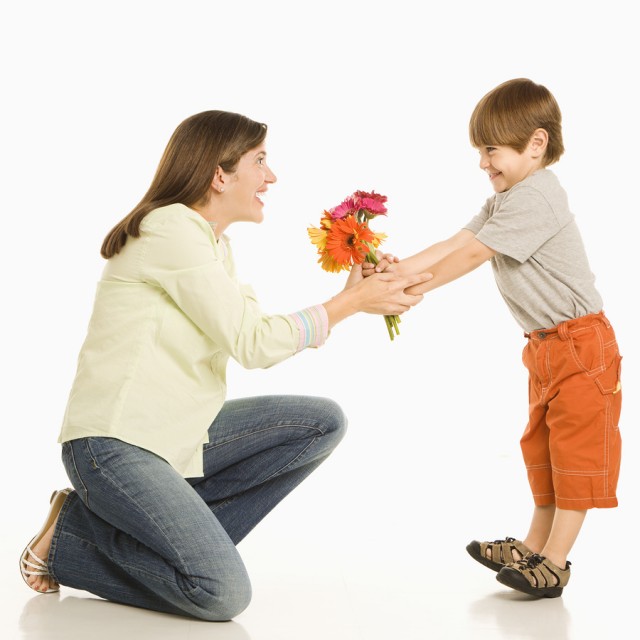 I compiled 50 Mothers Day Wishes to help those who find it hard to find the right words to express their love. Use these as inspiration and make yours personal.
Editors Note: If you haven't picked a present for your mother yet, you can find some mothers day gift ideas here.
The miracle of life nutured by a woman who gave us love and sacrifice is MOTHER. Happy Mothers Day.
I take this opportunity to thank you for your immeasurable contribution to my life. Thank You MOM! and wish you a very Happy Mother's Day.
You seen me laugh, you seen me cry, And you were always there with me. I may not have always said it. But thanks and I Love You.
Mother is the undying love, a love beyond compare the one you take your troubles to,she is the only one who really cares. Mother you are all of this and more, I Love You very much.
Smiles of happy sunshine, Arm's of everlasting luv,  Touch of sweet roses, there is magic in the air. whenever you are there, Mother everything to u i owe,may all pleasures of life come your way. Happy Mother's Day.
Happy Mother's Day! May god give a special blessing to all Mother's and those with the loving heart and sprint of a mother!
I Love You and hope you know that you are my blessing. I am devoted to loving you caring for you for the rest of my life. Happy Mother's Day.
Wish i could be with you on mother's day. I want you to know and i'm thinking of you and wishing you a very Happy Mother's Day.
I LOVE YOU MOM! No matter what we go through no matter how much we argue because i know, at the end she will always there for me.
Happy Mother's day mum! thanks for always being there for me.you are the greatest mother in the world.

A mother is not a person to learn on, but a person to make leaning unnecessary .
Word's  are never enough to thank you for all that you do…. Happy Mother's Day.
your encouragement, support and love… has helped me grow to what I am now! Thank you for brightening up my life! Happy Mother's Day.
Mother's love is peace. It need not be acquired, it need not be deserved.
Mother's love is the fuel that enables a normal human being to do the impossible.
Mother's love knows no boundaries, As it grows healthier each day, knows no reason as it given unconditionally, knows no reason as it transcends forever through eternity……. Happy Mother's Day.
If there was a day for everything you have given to me as a mother, If would be a Mother's Day every day.
To the world you might just be one person, but to one person you might just be world.
Mom, you have given me so much, love from your heart and the warmth of your touch. The gift of life and you're a friend to me. We have a very special bond, which only comes from god.
M-is for the million things she gives me, O-means only that she's soft to hold, T-for the things she tries to teach me, H-is for her heart of purest gold, E-for her eyes, with love light shining. R-means right and right she'll always be.
Love you as my mother.I respect you as a woman. I first you as my friend. You mean so much to me and I'm so lucky to have you.Happy Mother's Day.
There is no one like a mother and, no mother quite like you. You are so very thoughtful and caring, and I just wanted to thank you mother, for making my life brighter.
Mom,my silence for a while doesn't really mean I don't care god knows how much I do….and how grateful I am because you raise me well…..thank you so much mom!.
We have fights, but you will always be my mother. I would like you to know I love you and I hope you have the best mother's day.

God could not be everywhere and therefore he made mother's. Happy Mother's Day.
The miracle of life nurtured by a woman who gave us love and sacrifice….Mother. Happy Mother's Day.
For the best mom, who always had a smile for me, I know we may be far apart right now. So heres' a great kiss and hug. Happy Mother's Day.
Happy Mother's Day means more than flowers and gifts. It means saying thank you. It means I Love You. You are my mother, my friend. Today is your day.
Mom! you are the centrepiece of my life. The light in the sun. I can't thank you enough for all you have done. You make me smile when I am sad.You are the best mother a child could have.
Mom, there are no words,that can possibly express how much you mean to me and how much trust I feel for you. You have given up so much for me, more than i deserve.
Thank you for being there for me, you are the air that I breath you and had many chances to leave you stuck by me during hard times. I'm so happy that you are mine.
Your loving nature and your delicate words, will always flow through me like a gentle flower. Make sure this day is your day, and rule with pure enjoyment and pure love!

I always pray to god, may you live long,may you always be with me. Love you more than my life. Love You Mom. Happy Mother's Day.
With a mom so generous and loving as you how could we ask for more! Thanks for always giving us the best.
I couldn't have asked for a better mum!! Thanks for bringing me in to this world and always giving me the best.
No matter how many times we argue, how many times I don't understand you and how many times I get scolded by you, i still think that you are the best and will always be the greatest mom in the world.
The heart of home is a mother, whose love is warm and true, and home has always been "sweet home" with a wonderful mother like you!
Just one little wish for you,mom! but its loving and happy and true. It's a wish that the nicest and best thing's will always keep coming you!
Here's wishing you happy mother's day that's filled with every pleasure, and a future that's as happy as the memories you treasure!
You wash my prints from walls and doors, for I am not careful where I pay. But there is a print you'll want to keep. It's made for you this Mother's Day.

Wishing you all the love and happiness you so richly deserve ! Happy Mother's Day.
For all the loving things you are and caring things you do, we're sending this special wish multiplied by two! Have a beautiful day.
May all the love you give to others come back to you on this special day. Have a wonderful mother's day.
There is no velvet so soft as a mother's lap, no rose as lovely as her smile, no path so flowery as that imprinted with her footsteps.
Dear mom, be always health and sweet, good joyful and unique, forever cherished and loved forever!
If I had a flower for each time I thought of my mother, I could walk in my garden forever.
It takes someone really brave to be a mother, someone strong to raise a child and someone special to love someone more than herself.
No other present in the world can be more special and beautiful than the gift of a mother. I am so glad to have you. Happy Mother's Day.
Never in this life have I met a lady so beautiful, so elegant and so lovely. You are prettiest of them all, dear mother! I Love You. Happy Mother's Day.
Your pretty smile, your heart of gold and your healing touch, mother you are no less than an angel to me. I Love You. Happy Mother's Day.