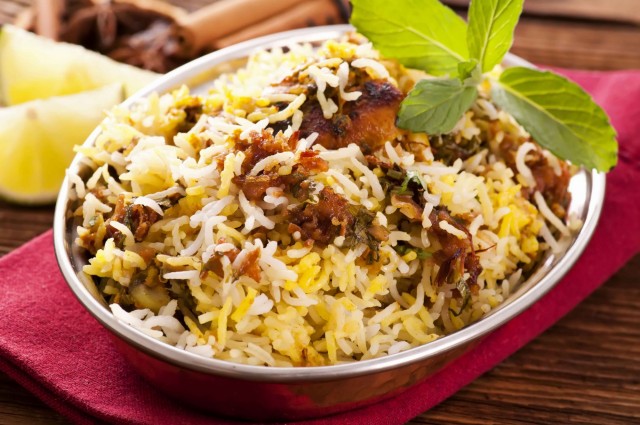 Hyderabadi biryani! who want to say no for it? definitely not me!
Now we are going to learn hyderabadi biryani, which is famous across the globe. Its taste,aroma,texture and what not every feature of it will make you a big fan of it.Biryani is considered to be a dish of South Indian origin, south India has more varieties of biryani than any other part of the subcontinent. Also, rice is a more staple food in South India than the rest of India.[2] Hyderabadi biryani originated after blending of Mughlai and Telugu cuisine in the kitchens of the Nizam.
This one is so easy to prepare but at the same time it needs a lot of tender and care too. lets get started by the process.
A few things to keep in mind while preparing biryani. Use best quality aged Basmati rice, good quality chicken. Marinate chicken for at least 4-6 hrs and if running out of time then two hours will do. No short cut methods and all the ingredients listed below are a MUST, in other words, there are no substitutes for the mentioned ingredients.
ingredients:
1 kg meat
1 Tbsp salt
1 Tbsp ginger garlic paste
1 Tbsp red chilli paste
1 Tbsp green chilli paste sauteed brown onions to taste
1/2 Tbsp cardamom powder
3-4 sticks cinnamon
1 Tbsp cumin seeds
4 cloves pinch of mace mint leaves to taste
2 Tbsp lemon juice
250 gm curd
4 Tbsp clarified butter
750 gm semi cooked rice
1 tsp saffron
1/2 cup water
1/2 cup of oil
procedure:-
First clean the meat.
Then have a pan and puor oil in that and get that heated.
Then add meat, salt, ginger garlic paste, red chilli powder, green chilli paste, sauteed brown onions, cardamom powder, cinnamon, cumin seeds, cloves, mace, mint leaves and lemon juice. Mix it well.
Then add curd, clarified butter, semi cooked rice, saffron, water and oil and mix it well.
Now apply sticky dough on the sides of the pan.
Cover with lid to seal it and cook for about 25 minutes.
Garnish it with corriander leaves and mint leaves.
Then hyderabadi biryani is ready. This can be served hot along with raitha, onions and lemon.
* semi cook the rice before you start the process.
Raitha:
ingredients:-
onions-1
carrots-1
tomato -1
salt for taste
curd
procedure:
* cut the onion,carrot,tomato in to finely chopped pieces.
* then add curd to them and salt to taste.
Then the raitha will be ready.