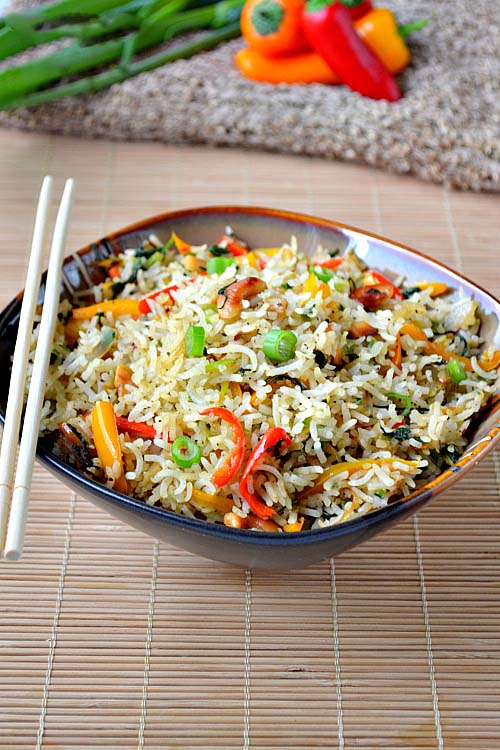 I already shared you my favourite vegatable fried rice recipe. Now I am going to show another rice recipe that everyone will love. That is "Capsicum Masala Rice". This is the kind of dish which can be made easy and also delicious to taste. Making on this on is so simple that you can do this in very less time.
Let me tell you the ingredients needed for the dish
cooked rice – 3 cups
oil/ghee – 21/2 tablespoons
cumin seeds – 1/2 teaspoons
black gram daal – 1 teaspoons
cinamon stick – 1 inch
dry red chillies – 3-4
roasted peanuts – 3 tablespoons
black mustard seed – 1 teaspoons
capsicum(bell pepper) – 2
Now let us start the procedure:
Fry the cooked rice with ghee and keep it a side.(each grain should be separate )
Now add ghee to the pan and heat it. Then add cumin seeds and black gram daal and fry them until the daal get little brown color and cumin seeds spluters.
Now add coriander seeds, cinamon stick, curry leaves and dry red chilles and fry them until the flavour comes out.
Finally add peanuts to them and fry them with other ingredients, after they got fried, off the flame.
keep them a side till they got cooled.
Now heat oil/ghee and then add musturd seeds and let them splutter
Now add curry leaves to that and fry them until they got little crisp.
Add capsicum and fry it for 3 minutes.
Don't over fry them, let them remain little crispy.
Add salt to taste and combine well, reduce heat and add rice and combine with the rest of ingredients.
Add roasted peanuts, and grounded powder to the rice and combine till it is mixed well.